CONTACT, CONFLICT AND INTERETHNIC ATTITUDES AMONG CHILDREN IN NORTH MACEDONIA
Keywords:
contact, conflict, intergroup attitudes, primary aged children
Abstract
Improving interethnic relations in conflict-affected societies is a difficult task, as a complex repertoire of mutual views and reactions is developed. Furthermore, the experiences of the children in such situations have rarely been taken into perspective. Therefore, this study tries to address this research gap by using data from the Republic of North Macedonia, where interethnic tensions are still present between ethnic Macedonians and ethnic Albanians, although the violent outburst of the conflict ended in 2001. The paper is focused on perceptions of contact and conflict among primary aged children, and their relations with the outgroup attitudes such as liking, trusting, and wanting to play with children from the outgroup. A total of 194 children aged 6 to 11 (M = 8.4) participated in the research, filling play-like items using Qualtrics. The sample was taken from two schools with a mixed language of instruction and was balanced for ethnicity (45.9% Macedonian, 54.1% Albanian) as well as gender (57.7% female, 42.3% male). The results of the series of regression analyses show that the contact quality and a number of outgroup friends are significantly correlated with outgroup liking, willingness to play, and outgroup trust, while the perception of conflict is negatively correlated with outgroup trust. The interaction between age and the contact quantity is a significant predictor of willingness to play with the outgroup, while the interaction between majority status and contact quantity is a significant predictor of outgroup trust. The study highlights the need for a meaningful contact between children from both ethnic groups for improvement of interethnic relations.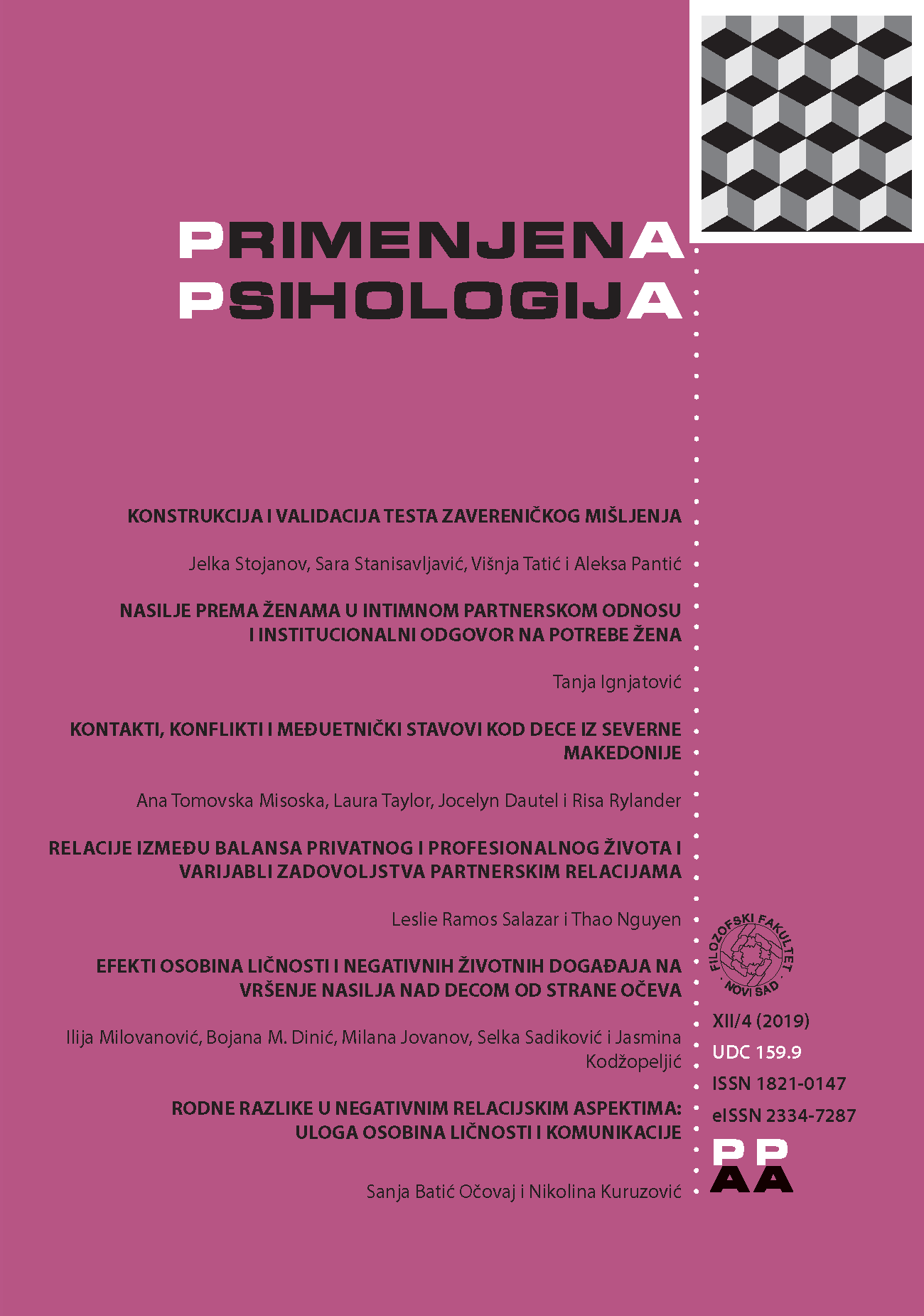 Downloads
How to Cite
Tomovska Misoska, A., Taylor, L., Dautel, J., & Rylander, R. (2020). CONTACT, CONFLICT AND INTERETHNIC ATTITUDES AMONG CHILDREN IN NORTH MACEDONIA. Primenjena Psihologija, 12(4), 409–428. https://doi.org/10.19090/pp.2019.4.409-428