SOCIAL SUPPORT AND INFERTILITY STRESS: THE SIGNIFICANCE OF DIFFERENT SOURCES OF SUPPORT
Keywords:
family, friends, infertility, partner, social support
Abstract
The results of previous studies indicate the importance of social support for an individual's quality of life. Social support stands out as one of the most important protective factors in the process of coping with numerous life crises and infertility is one of them. In order to examine the significance of the social support received by friends, family and significant other in the perception of infertility stress, 312 infertile women, aged 21 to 48, were asked to complete the Multidimensional Scale of Perceived Social Support and the Fertility Problem Inventory. Respondents rate the social support they receive from their loved ones very high for every source of support, with the highest score for support from a significant person, then family and friends. Significant differences were found between women from different groups / lengh of facing with the problem in the perception of support by family and friends, but not by partners. Regardless of results that show the highest support from a partner, regression analysis showed that the explanation of perceived infertility stress variance was significantly determined by support from friends and family, whereas support from a significant person did not prove to be a significant predictor, except in the domain of relationship stress. The findings highlight the importance of educating the general population about the problem of infertility and about ways how to support these couples, as well as working with individuals and couples who are facing infertility to develop adaptive strategies for seeking support from their close ones.
References
Abraham, A. D. (2019). Perceptions of social support in infertility (Unpublished doctoral dissertation). Chestnut Hill College.

Alesi, R. (2005). Infertility and its treatment: An emotional roller coaster. Australian Family Physician, 34(3), 135–138.

Burns, L. H., & Covington, S. N. (2006). Psychology of infertility. In S. N. Covington & L. H. Burns (Eds.), Infertility counseling: A comprehensive handbook for clinicians (pp. 1–19). The Cambridge University Press. https://doi.org/10.1017/CBO9780511547263.003

Canty-Mitchell, J., & Zimet, G. D. (2000). Psychometric properties of the Multidimensional Scale of Perceived Social Support in urban adolescents. American Journal of Community Psychology, 28(3), 391–400. https://doi.org/10.1023/A:1005109522457

Chan, C. H. Y., Ng, E. H. Y., Chan, C. L. W., Ho, P. C., & Chan, T. H. Y. (2006). Effectiveness of psychosocial group intervention for reducing anxiety in women undergoing in vitro fertilization: A randomized controlled study. Fertility and Sterility, 85(2), 339–346. https://doi.org/10.1016/j.fertnstert.2005.07.1310

Cousineau, T. M., & Domar, A. D. (2007). Psychological impact of infertility. Best Practice & Research Clinical Obstetrics & Gynaecology, 21(2), 293–308. https://doi.org/10.1016/j.bpobgyn.2006.12.003

Daly, K. J., & Kerry, J. (1999). Crisis of Genealogy: Facing the Challenges of Infertility. In H. I. McCubbin, E. A. Thompson, A. I. Thompson, & J. Futrell (Eds.), Dynamics of Resilient Families (pp. 1–40). Sage Publications.

Ekinci, F., Tuncel, B., Uzuner, A., Anğın, A. D., Çoşkun, D. M., Sakin, Ö., Çıkman, M. S., & Şimşek, E. E. (2017). An evaluation of the psychosocial status of infertile women. Southern Clinics of Istanbul Eurasia, 28, 4–7. https://doi.org/ 10.14744/scie.2017.83007

Gerrity, D. A. (2001). Five Medical Treatment Stages of Infertility: Implications for Counselors. The Family Journal: Counseling and Therapy for Couples and Families, 9(2), 140–150. https://doi.org/10.1177/1066480701092008

Greil, A. L., Slauson‐Blevins, K., & McQuillan, J. (2010). The experience of infertility: A review of recent literature. Sociology of Health & Illness, 32(1), 140–162. https://doi.org/10.1111/j.1467-9566.2009.01213.x

Hinton, L., Kurinczuk, J. J., & Ziebland, S. (2010). Infertility; isolation and the Internet: A qualitative interview study. Patient Education and Counseling, 81(3), 436–441. https://doi.org/10.1016/j.pec.2010.09.023

Hjelmstedt, A., Andersson, L., Skoog-Svanberg, A., Bergh, T., Boivin, J., & Collins, A. (1999). Gender differences in psychological reactions to infertility among couples seeking IVF-and ICSI-treatment. Acta Obstetricia et Gynecologica Scandinavica, 78(1), 42–49. https://doi.org/10.1034/j.1600-0412.1999.780110.x

Inhorn, M. C. (2000) Missing motherhood: Infertility, technology, and poverty in Egyptian women's lives. In H. Ragone & F. Widdance-Twine (Eds.), Ideologies and technologies of motherhood (pp. 139–168). Routledge.

Jestrović, J., Mihić, I. i Radovanović, M. (2016). Tranzicija u roditeljstvo: razlike u kvalitetu braka parova koji su začeli prirodnim putem i onih koji su začeli vantelesnom oplodnjom. Godišnjak za psihologiju, 13(15), 55–69.

Jirka, J., Schuett, S., & Foxall, M. J. (1996). Loneliness and social support in infertile couples. Journal of Obstetric, Gynecologic, & Neonatal Nursing, 25(1), 55–60. https://doi.org/10.1111/j.1552-6909.1996.tb02513.x

Johnson, K. M., & Johnson, D. R. (2009). Partnered decisions? US couples and medical help‐seeking for infertility. Family Relations, 58(4), 431–444. https://doi.org/10.1111/j.1741-3729.2009.00564.x

Knight, R. G., Chisholm, B. J., Marsh, N. V., & Godfrey, H. P. (1988). Some normative, reliability, and factor analytic data for the revised UCLA Loneliness Scale. Journal of Clinical Psychology, 44(2), 203–206. https://doi.org/10.1002/1097-4679(198803)44:2<203::AID-JCLP2270440218>3.0.CO;2-5

Kričković Pele, K. i Beker, K. (2014). Rodne i društvene kontroverze vantelesne oplodnje u Srbiji - diskriminacija žena koje nisu rađale. Temida, 17(3), 49–68. https://doi.org/10.2298/TEM1403049K

Kroemeke, A., & Kubicka, E. (2018). Positive and negative adjustment in couples undergoing infertility treatment: The impact of support exchange. PloS One, 13(6), 1–12. https://doi.org/10.1371/journal.pone.0200124

Leiblum, S. R. (1997). Infertility psychological issues and counseling strategies. Wiley.

Martins, M. V., Peterson, B. D., Almeida, V. M., & Costa, M. E. (2011). Direct and indirect effects of perceived social support on women's infertility-related stress. Human Reproduction, 26(8), 2113–2121. https://doi.org/10.1093/humrep/der157

Martins, M. V., Peterson, B. D., Almeida, V., Mesquita-Guimaraes, J., & Costa, M. E. (2014). Dyadic dynamics of perceived social support in couples facing infertility. Human Reproduction, 29(1), 83–89. https://doi.org/ 10.1093/humrep/det403

Matsubayashi, H., Hosaka, T., Izumi, S., Suzuki, T., Kondo, A., & Makino, T. (2004). Increased depression and anxiety in infertile Japanese women resulting from lack of husband's support and feelings of stress. General Hospital Psychiatry, 26(5), 398–404. https://doi.org/10.1016/j.genhosppsych.2004.05.002

Newton, C. R., Sherard, W., & Glavac, I. (1999). The Fertility Problem Inventory: measuring perceived infertility-related stress. Fertility and Sterility, 72(1), 54–62. https://doi.org/10.1016/S0015-0282(99)00164-8

Pasch, L. A., & Christensen, A. (2000). Couples facing fertility problems. In K. B. Schmaling & T. G. Sher (Eds.), The psychology of couples and illness: Theory, research, & practice (pp. 241–267). American Psychological Association. https://doi.org/10.1037/10360-009

Peterson, B. D., Newton, C. R., Rosen, K. H., & Skaggs, G. E. (2006). Gender differences in how men and women who are referred for IVF cope with infertility stress. Human Reproduction, 21(9), 2443–2449. https://doi.org/10.1093/humrep/del145

Peterson, B. D., Pirritano, M., Christensen, U., & Schmidt, L. (2008). The impact of partner coping in couples experiencing infertility. Human Reproduction, 23(5), 1128–1137. https://doi.org/10.1093/humrep/den067

Peterson, B., Boivin, J., Norre, J., Smith, C., Thorn, P., & Wischmann, T. (2012). An introduction to infertility counseling: a guide for mental health and medical professionals. Journal of Assisted Reproduction & Genetics, 29(3), 243–248. https://doi.org/10.1007/s10815-011-9701-y

Saleem, S., Qureshi, N. S., & Mahmood, Z. (2019). Attachment, perceived social support and mental health problems in women with primary infertility. International Journal of Reproduction, Contraception, Obstetrics and Gynecology, 8(6), 2533–2540. https://doi.org/ 10.18203/2320-1770.ijrcog20192463

Schwarzer, R., & Knoll, N. (2007). Functional roles of social support within the stress and coping process: A theoretical and empirical overview. International Journal of Psychology, 42(4), 243–252. https://doi.org/10.1080/00207590701396641

Slade, P., O'Neill, C., Simpson, A. J., & Lashen, H. (2007). The relationship between perceived stigma, disclosure patterns, support and distress in new attendees at an infertility clinic. Human Reproduction, 22(8), 2309–2317. https://doi.org/10.1093/humrep/dem115

Vassard, D., Lund, R., Pinborg, A., Boivin, J., & Schmidt, L. (2012). The impact of social relations among men and women in fertility treatment on the decision to terminate treatment. Human Reproduction, 27(12), 3502–3512. https://doi.org/10.1093/humrep/des353

Walen, H. R., & Lachman, M. E. (2000). Social support and strain from partner, family, and friends: Costs and benefits for men and women in adulthood. Journal of Social and Personal Relationships, 17(1), 5–30. https://doi.org/10.1177/0265407500171001

Welbourne, J. L., Blanchard, A. L., & Boughton, M. D. (2009). Supportive communication, sense of virtual community and health outcomes in online infertility groups. Proceedings of the Fourth International Conference on Communities and Technologies, 31–40. https://doi.org/10.1145/1556460.1556466

Woods, N., Olshansky, E., & Draye, M. (1991). Infertility: Women's experiences. Health Care for Women International, 12(2), 179–189. https://doi.org/10.1080/07399339109515939

Ying, L. Y., Wu, L. H., & Loke, A. Y. (2015). Gender differences in experiences with and adjustments to infertility: A literature review. International Journal of Nursing Studies, 52(10), 1640–1652. https://doi.org/10.1016/j.ijnurstu.2015.05.004

Zegers-Hochschild, F., Adamson, G. D., de Mouzon, J., Ishihara, O., Mansour, R., Nygren, K., Sullivan, E., van der Poel, & WHO. (2009). The International Committee for Monitoring Assisted Reproductive Technology (ICMART) and the World Health Organization (WHO) Revised Glossary on ART Terminology, 2009. Human Reproduction, 24(11), 2683–2687. https://doi.org/10.1093/humrep/dep343

Zimet, G. D., Powell, S. S., Farley, G. K., Werkman, S., & Berkoff, K. A. (1990). Psychometric Characteristics of the Multidimensional Scale of Perceived Social Support. Journal of Personality Assessment, 55(3/4), 610–617. https://doi.org/10.1080/00223891.1990.9674095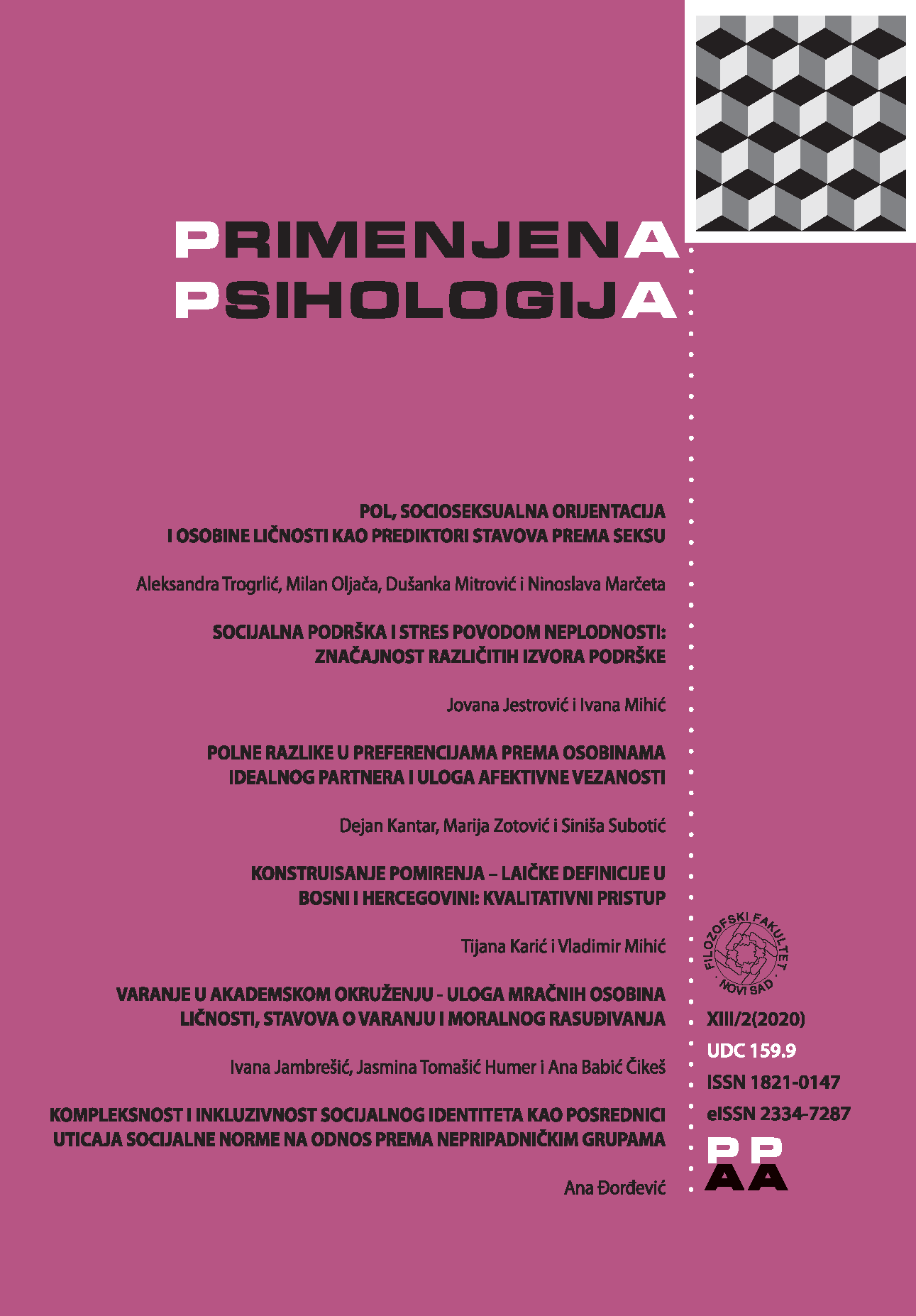 Downloads
How to Cite
Jestrović, J., & Mihić, I. (2020). SOCIAL SUPPORT AND INFERTILITY STRESS: THE SIGNIFICANCE OF DIFFERENT SOURCES OF SUPPORT. Primenjena Psihologija, 13(2), 169–189. https://doi.org/10.19090/pp.2020.2.169-189