RELATIONSHIPS BETWEEN BASIC EMOTIONS AND REPRODUCTIVE FITNESS ARE MODERATED BY SEX AS AN INTERNAL STATE
Keywords:
basic emotions; human behavioral ecology; reproductive fitness; sex differences; state-dependent behavior
Abstract
One of the key features of personality is the existence of inter-individual differences in motivation, emotions and behavior. Individual differences may be maintained in a population if personality traits are linked to states – conditions which affect the fitness-related outcomes of personality. We tested this assumption using the participants' sex as an internal state. Personality was operationalized via basic emotional systems: FEAR, ANGER, SADNESS, SEEKING, PLAYFULNESS and CARE. We measured several fitness-related outcomes like reproductive success, residual reproductive value, reproductive timing, the onset of sexual activity and short- term mating frequency. The data were collected in a community sample via an online study (N = 635; Mage = 29.4; 69.4% females). We used linear regression to predict fitness-related outcomes by basic emotions and tested interactions between sex and emotions to the prediction of these criteria measures. Predictable sex differences in basic emotions were obtained: males had lower scores on CARE, FEAR and SADNESS traits. Findings also showed that basic emotions can have an adaptive role in a biological sense – this was particularly true for CARE and ANGER traits. Finally, five interactions were detected, which showed that the adaptive benefits of emotional traits are different for males and females in a conceptually expected manner. Research results showed that personality traits operationalized as basic emotional systems can contribute to evolutionary fitness. These results furthermore expand the knowledge of human personality as a state-dependent behavior.
References
Adelson, J. L., & McCoach, D. B. (2010). Measuring the mathematical attitudes of elementary students: The effects of a 4-point or 5-point Likert-type scale. Educational and Psychological Measurement, 70, 796–807. https://doi.org/10.1177%2F0013164410366694

Barrett, F. S., Robins, R. W., & Janata, P. (2013). A brief form of the Affective Neuroscience Personality Scales. Psychological Assessment, 25, 826–843. http://psycnet.apa.org/doi/10.1037/a0032576

Berg, V., Lummaa, V., Rickard, I. J., Silventoinen, K., Kaprio, J., & Jokela, M. (2016). Genetic associations between personality traits and lifetime reproductive success in humans. Behavior Genetics, 46(6), 742-753. https://doi.org/10.1007/s10519-016-9803-5

Berg, V., Rotkirch, A., Väisänen, H., & Jokela, M. (2013). Personality is differentially associated with planned and non-planned pregnancies. Journal of Research in Personality, 47, 296-305. https://doi.org/10.1016/j.jrp.2013.01.010

Blom, G. (1958). Statistical estimates and transformed beta-variables. Wiley.

Brennan, K. A., Clark, C. L., & Shaver, P. R. (1998). Self-report measurement of adult attachment: An integrative overview. In J. A. Simpson & W. S. Rholes (Eds.), Attachment theory and close relationships (pp. 46–76). Guilford.

Cohen, J. (1992). A power primer. Psychological bulletin, 112(1), 155–159.

Costa, P.T. Jr., & McCrae, R.R. (1992). Revised NEO Personality Inventory (NEO-PI-R) and NEO Five-Factor Inventory (NEO-FFI) manual. Psychological Assessment Resources.

Davis, K. L., & Panksepp, J. (2011). The brain's emotional foundations of human personality and the Affective Neuroscience Personality Scales. Neuroscience & Biobehavioral Reviews, 35, 1946–1958. https://doi.org/10.1016/j.neubiorev.2011.04.004

Davis, K. L., Panksepp, J., & Normansell, L. (2003). The affective neuroscience personality scales: Normative data and implications. Neuropsychoanalysis, 5, 57–69. https://doi.org/10.1080/15294145.2003.10773410

Del Giudice, M., Gangestad, S. W., & Kaplan, H. S. (2015). Life history theory and evolutionary psychology. In D. M. Buss (Ed.), The handbook of evolutionary psychology, Vol. 1, foundations (2nd ed., pp. 88–114). John Wiley. https://doi.org/10.1002/9781119125563.evpsych102

Dingemanse, N. J., & Wolf, M. (2010). Recent models for adaptive personality differences: a review. Philosophical Transactions of the Royal Society of London B: Biological Sciences, 365, 3947-3958. doi:10.1098/rstb.2010.0221

Goldberg, L. R. (1993). The structure of phenotypic personality traits. American Psychologist, 48, 26–34. https://doi.org/10.1037/0003-066x.48.1.26

Gurven, M., von Rueden, C., Stieglitz, J., Kaplan, H., & Rodriguez, D. E. (2014). The evolutionary fitness of personality traits in a small-scale subsistence society. Evolution and Human Behavior, 35(1), 17–25. https://doi.org/10.1016/j.evolhumbehav.2013.09.002

Jackson, J. J., & Kirkpatrick, L. A. (2007). The structure and measurement of human mating strategies: Toward a multidimensional model of sociosexuality. Evolution and Human Behavior, 28, 382–391. http://dx.doi.org/10.1016/j.evolhumbehav.2007.04.005

Jokela, M., Alvergne, A., Pollet, T. V., & Lummaa, V. (2011). Reproductive behavior and personality traits of the Five Factor Model. European Journal of Personality, 25, 487–500. http://dx.doi.org/10.1002/per.822

Kogan, S. M., Cho, J., Simons, L. G., Allen, K. A., Beach, S. R., Simons, R. L., & Gibbons, F. X. (2015). Pubertal timing and sexual risk behaviors among rural African American male youth: Testing a model based on life history theory. Archives of Sexual Behavior, 44(3), 609–618. https://doi.org/10.1007/s10508-014-0410-3

Langdridge, D., Sheeran, P., & Connolly, K. (2005). Understanding the reasons for parenthood. Journal of Reproductive and Infant Psychology, 23, 121–133. https://doi.org/10.1080/02646830500129438

Leung, S. O. (2011). A comparison of psychometric properties and normality in 4-, 5-, 6-, and 11-point Likert scales. Journal of Social Service Research, 37(4), 412–421. https://doi.org/10.1080/01488376.2011.580697

Međedović, J. (2018a). What can human personality psychology learn from behavioral ecology? Journal of Comparative Psychology, advanced online publication. https://doi.org/10.1037/com0000120

Međedović, J. (2018b). Testing the state-dependent behavior models in humans: Environmental harshness moderates the link between personality and mating. Personality and Individual Differences, 125, 68–73. https://doi.org/10.1016/j.paid.2017.12.035

Međedović, J., & Kovačević, U. (2020). Personality as a state-dependent behavior: Do childhood poverty and pregnancy planning moderate the link between personality and fitness? Personality and Individual Differences, 154, 109625. https://doi.org/10.1016/j.paid.2019.109625

Međedović, J., & Petrović, B. (2019). Quantity-quality trade-offs may partially explain inter- individual variation in psychopathy. Adaptive Human Behavior and Physiology, advance online publication. https://doi.org/10.1007/s40750-019-00113-4

Međedović, J., Petrović, B., Želeskov-Đorić, J., & Savić, M. (2017). Interpersonal and affective psychopathy traits can enhance human fitness. Evolutionary Psychological Science, 3, 306–315. https://doi.org/10.1007/s40806-017-0097-5

Međedović, J., Šoljaga, M., Stojković, A., & Gojević, I. (2018). Revealing complex relations between personality and fitness: HEXACO personality traits, life-time reproductive success and the age at first birth. Personality and Individual Differences, 129, 143–148. https://doi.org/10.1016/j.paid.2018.03.014

Miller, W. B. (1995). Childbearing motivation and its measurement. Journal of Biosocial Science, 27, 473–487. https://doi.org/10.1017/S0021932000023087

Miller, W. B., Rodgers, J. L., & Pasta, D. J. (2010). Fertility motivations of youth predict later fertility outcomes: A prospective analysis of national longitudinal survey of youth data. Biodemography and Social Biology, 56, 1–23. https://doi.org/10.1080/19485561003709131

Montag, C., Hahn, E., Reuter, M., Spinath, F. M., Davis, K., & Panksepp, J. (2016). The role of nature and nurture for individual differences in primary emotional systems: evidence from a twin study. PloS one, 11(3), e0151405. https://doi.org/10.1371/journal.pone.0151405

Montag, C., & Panksepp, J. (2017). Primary emotional systems and personality: an evolutionary perspective. Frontiers in Psychology, 8, 464. https://doi.org/10.3389/fpsyg.2017.00464

Neel, R., Kenrick, D. T., White, A. E., Neuberg, S. L., (2016). Individual differences in fundamental social motives. Journal of Personality and Social Psychology, 110, 887–907. https://doi.org/ 10.1037/pspp0000068

Nettle, D., Gibson, M. A., Lawson, D. W., & Sear, R. (2013). Human behavioral ecology: current research and future prospects. Behavioral Ecology, 24, 1031–1040. https://doi.org/10.1093/beheco/ars222

Panksepp, J. (2005). Affective consciousness: Core emotional feelings in animals and humans. Consciousness and Cognition, 14, 30–80. https://doi.org/10.1016/j.concog.2004.10.004

Panksepp, J., Fuchs, T., & Iacobucci, P. (2011). The basic neuroscience of emotional experiences in mammals: The case of subcortical FEAR circuitry and implications for clinical anxiety. Applied Animal Behaviour Science, 129, 1–17. https://doi.org/10.1016/j.applanim.2010.09.014

Panksepp, J., & Watt, D. (2011). What is basic about basic emotions? Lasting lessons from affective neuroscience. Emotion Review, 3, 387–396. https://doi.org/10.1177/1754073911410741

Penke, L., & Asendorpf, J. B. (2008). Beyond global sociosexual orientations: a more differentiated look at sociosexuality and its effects on courtship and romantic relationships. Journal of Personality and Social Psychology, 95, 1113–1125. http://psycnet.apa.org/doi/10.1037/0022-3514.95.5.1113

Penke, L., & Jokela, M. (2016). The evolutionary genetics of personality revisited. Current Opinion in Psychology, 7, 104–109. http://dx.doi.org/10.1016/j.copsyc.2015.08.021

Pingault, J. B., Falissard, B., Côté, S., & Berthoz, S. (2012). A new approach of personality and psychiatric disorders: A short version of the Affective Neuroscience Personality Scales. PloS One, 7, e41489. https://doi.org/10.1371/journal.pone.0041489

Preston, C. C., & Colman, A. M. (2000). Optimal number of response categories in rating scales: reliability, validity, discriminating power, and respondent preferences. Acta Psychologica, 104(1), 1–15. https://doi.org/10.1016/S0001-6918(99)00050-5

Schmitt, D. P., & Shackelford, T. K. (2008). Big Five traits related to short-term mating: From personality to promiscuity across 46 nations. Evolutionary Psychology, 6, 246–282. https://doi.org/10.1177%2F147470490800600204

Sih, A., Mathot, K. J., Moirón, M., Montiglio, P. O., Wolf, M., & Dingemanse, N. J. (2015). Animal personality and state–behaviour feedbacks: a review and guide for empiricists. Trends in Ecology & Evolution, 30, 50–60. https://doi.org/10.1016/j.tree.2014.11.004

Skirbekk, V., & Blekesaune, M. (2014). Personality traits increasingly important for male fertility: Evidence from Norway. European Journal of Personality, 28(6), 521–529. https://doi.org/10.1002/per.1936

Smith, B. R., & Blumstein, D. T. (2008). Fitness consequences of personality: a meta-analysis. Behavioral Ecology, 19, 448–455. https://doi.org/10.1093/beheco/arm144

Smith, T. W., Glazer, K., Ruiz, J. M., & Gallo, L. C. (2004). Hostility, anger, aggressiveness, and coronary heart disease: An interpersonal perspective on personality, emotion, and health. Journal of Personality, 72, 1217–1270. https://doi.org/10.1111/j.1467-6494.2004.00296.x

Wolf, M., Van Doorn, G.S., Leimar, O. & Weissing, F.J. (2007). Life-history trade-offs favour the evolution of animal personalities. Nature, 447, 581–584. https://doi.org/10.1038/nature05835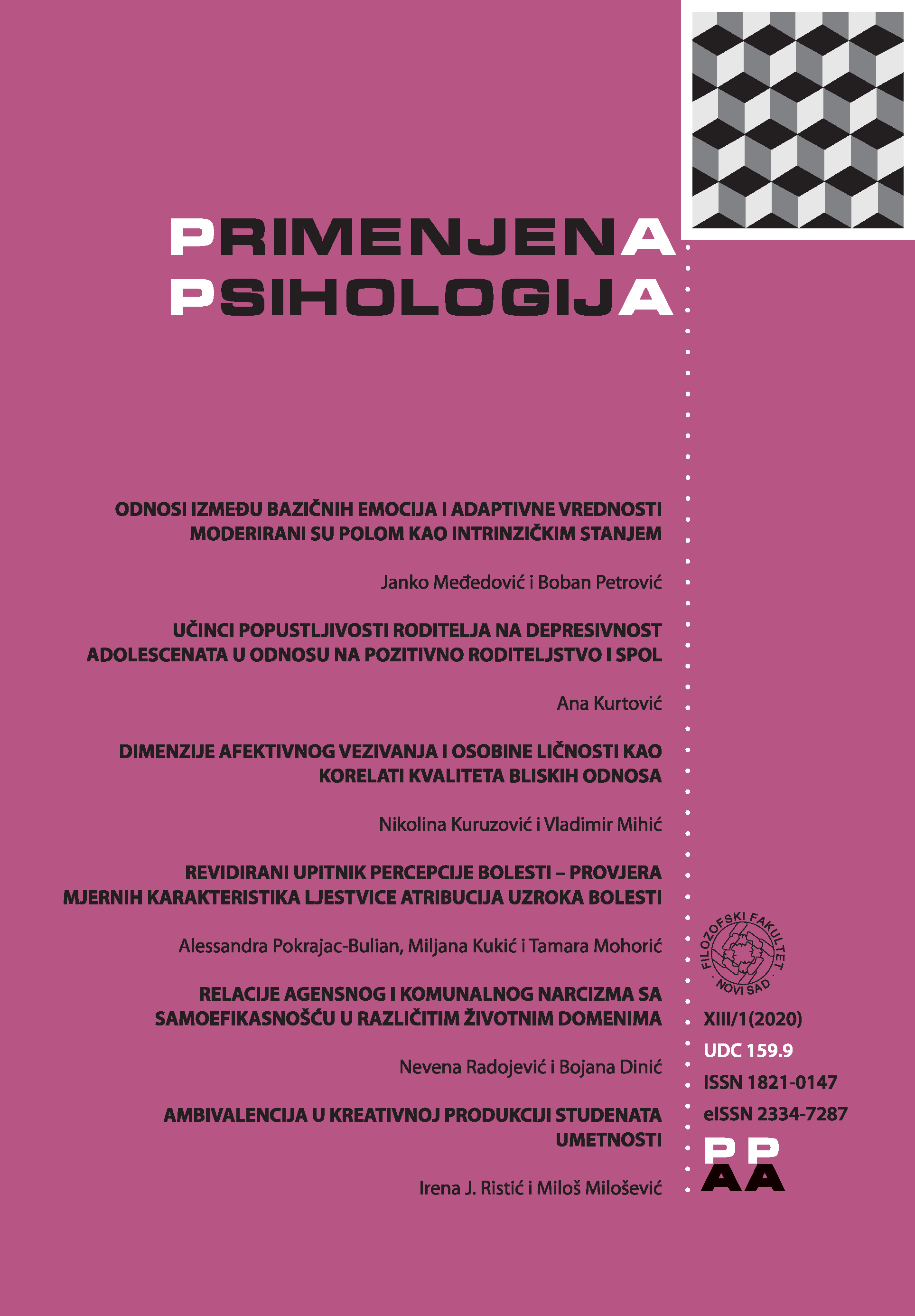 Downloads
How to Cite
Međedović, J., & Petrović, B. RELATIONSHIPS BETWEEN BASIC EMOTIONS AND REPRODUCTIVE FITNESS ARE MODERATED BY SEX AS AN INTERNAL STATE. Primenjena Psihologija, 13(1), 5–26. https://doi.org/10.19090/pp.2020.1.5-26