REDUKOVANJE PREOPERATIVNE ANKSIOZNOSTI KOD DECE: ULOGA RODITELJSKOG PONAŠANJA
Keywords:
preoperative anxiety, parent-child interaction, coping, distress
Abstract
The aim of this study was to better understand parent-childinteractions in pediatric surgery context by examining relationsbetween adult coping-promoting, adult distress-promotingbehaviors, and child preoperative anxiety. The Proximal-Distalmodel of children's coping and distress during painful medicalprocedures was used as a framework of this investigation.Our study examined influence of parental coping and distresspromoting behaviors on child preoperative anxiety level.
The study sample included 99 mother-child dyads, child aged3–6 years. Children were scheduled to undergo Tonsillectomyand Adenoidectomy at the Institute for Health Protection ofChildren and Adolescents in Novi Sad. Parental and childbehaviors were videotaped in 4 situations: baseline, beforepremedication, after premedication, and during separation. Toidentify interdependence between parental behavior and childpreoperative anxiety at different procedural stages, the Actor-Partner Interdependence model (APIM) was used. Models,examining the sequential associations between adult copingpromotingbehavior, adult distress-promoting behavior, and childpreoperative anxiety, had satisfactory fit (for coping: Chi-square(8) = 9.07, ns; GFI = .97; CFI = .99; RMSEA = .04(.00–.13); andfor distress: Chi-square (8) = 9.42, ns; GFI = .97; CFI = .99;RMSEA = .04(.00–.13)).
The results suggest that preoperative anxiety manifested inthe later stages of the procedure are influenced by anxietymanifested in the previous phases. The results also indicatethat child preoperative anxiety have influence on adult copingpromotingand adult distress-promoting behavior. Parentalbehaviors that promote coping and distress do not appear tohave any influence on child preoperative anxiety. Measurementand clinical implications are discussed.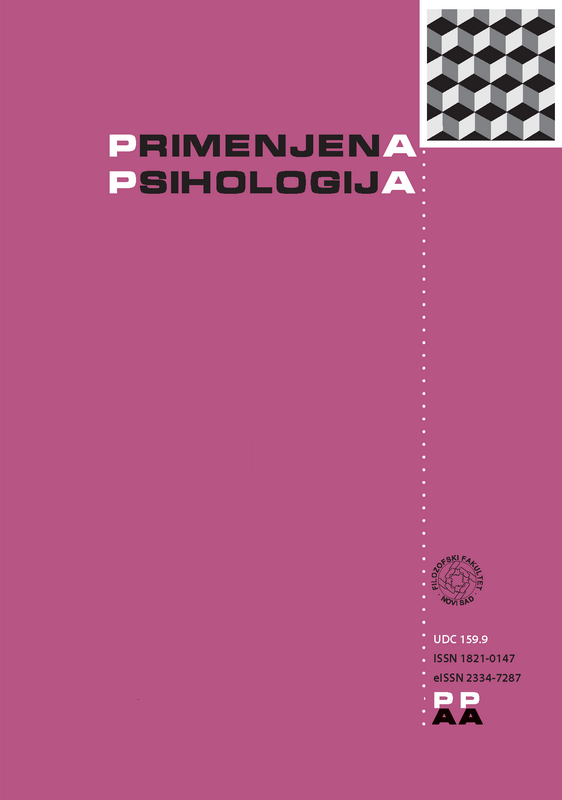 Downloads
How to Cite
Dukić, O., Mihić, L., Okanović, P., Srdanović Maraš, J., & Krstić, T. (2014). REDUKOVANJE PREOPERATIVNE ANKSIOZNOSTI KOD DECE: ULOGA RODITELJSKOG PONAŠANJA. Primenjena Psihologija, 7(1), 87–112. https://doi.org/10.19090/pp.2014.1.87-112