VULNERABILITY FACTORS FOR POSTTRAUMATIC STRESS DISORDER IN VICTIMS OF INTIMATE PARTNER VIOLENCE
Keywords:
intimate partner violence, vulnerability, PTSD
Abstract
The study investigates relationships between pre-traumatic,peri-traumatic and post-traumatic factors and post-traumaticpsychopatological responses in order to determine vulnerabilityfactors for developing Post-Traumatic Stress Disorder in victimsof intimate partner violence. The research was conducted on asample of 41 female participants, aged 18-63 years, who were inthe Women's Safe House in Novi Sad, domestic violence shelter,during the research. The following instruments were applied:General Information Questionnaire, Inventory of ChildhoodTrauma, Big Five Plus Two Personality Inventory, ViolenceAgainst Women Questionnaire, The Ways of Coping (Revised)Questionnaire, Ruminative Response Scale, The White BearSuppression Inventory, The Interpersonal Support EvaluationList and The PTSD Checklist – Civilian version. A series ofhierarchical regression analyses were conducted to estimatethe unique contributions of pre-traumatic, peri-traumatic andpost-traumatic factors in prediction of PTSD symptoms. Theresearch results indicate the most significant contribution ofthe personality dimension of Neuroticism and cognitive copingstrategy – ruminative response style – in prediction of Post-Traumatic Stress Disorder symptoms after exposure to intimatepartner violence. The research results open a discussion aboutmutual influence between determined vulnerability factors.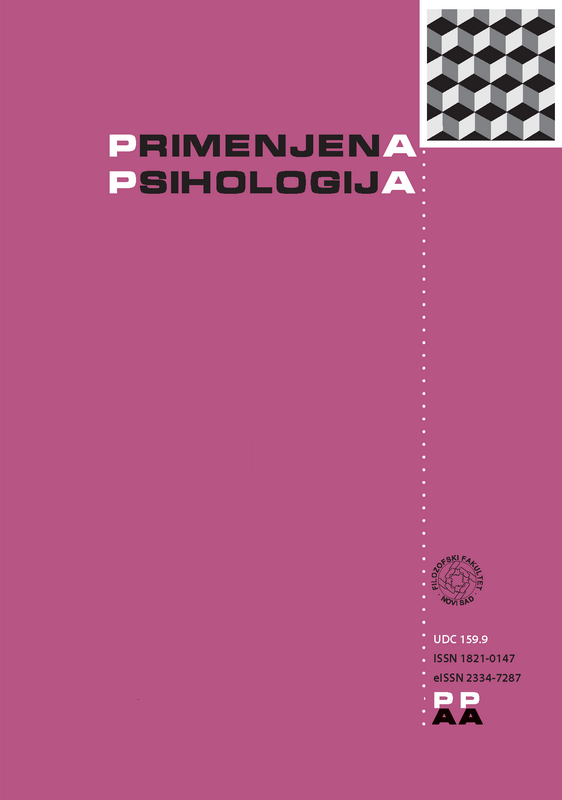 Downloads
How to Cite
Padejski, N., & Biro, M. (2014). VULNERABILITY FACTORS FOR POSTTRAUMATIC STRESS DISORDER IN VICTIMS OF INTIMATE PARTNER VIOLENCE. Primenjena Psihologija, 7(1), 63–85. https://doi.org/10.19090/pp.2014.1.63-85