Construction of the phonological awareness test in Serbian language
Keywords:
phonological awareness, phonemic awareness, test construction, hierarchical factor analysis
Abstract
Istraživanje prikazano u okviru ovog rada sprovedeno je da bi se dobili odgovori na tri istraživačka pitanja. Prvo pitanje odnosi se na strukturu prevladavanja kod adolescenata – koje dimenzije ili stilovi prevladavanja se mogu identifikovati na osnovu odgovora ispitanika o upotrebi različitih strategija prevladavanja? Drugo pitanje odnosi se na mogućnost predikcije upotrebe identifikovanih stilova prevladavanja na osnovu dimenzija ličnosti prema modelu Velikih pet. U okviru trećeg pitanja ispituje se značaj stilova prevladavanja kao prediktora nekih aspekata mentalnog zdravlja adolescenata. Istraživanje je izvršeno na uzorku od 225 učenika prvog i četvrtog razreda srednjih škola. Ispitivanjem strukture prevladavanja registrovane su bazične dimenzije prevladavanja. Strategije usmerene na emocije grupisale su se u okviru istoimenog faktora, dok su se u okviru prevladavanja usmerenog na problem diferencirale pristupajuće od izbegavajućih strategija. Osobine savesnost, emocionalna stabilnost i prijatnost izdvojile su se kao prediktori stilova prevladavanja usmerenih na problem, koji su se pokazali povezanim sa odsustvom problema u ponašanju i psihološkim blagostanjem. Neuroticizam, i u manjoj meri ekstraverzija, pokazali su se kao prediktori prevladavanja usmerenog na emocije, čija je upotreba, prema rezultatima ovog istraživanja, u negativnoj vezi sa indikatorima mentalnog zdravlja.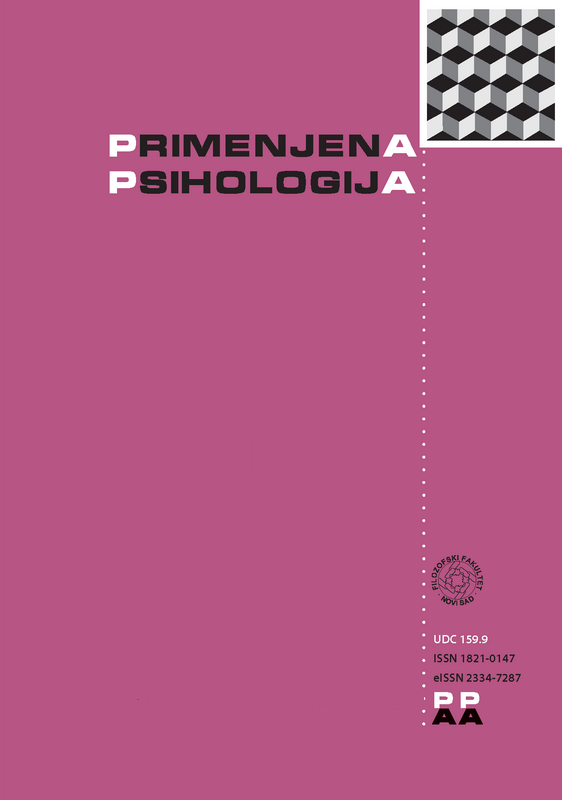 Downloads
How to Cite
Subotić, S. (2011). Construction of the phonological awareness test in Serbian language. Primenjena Psihologija, 4(2), 127–149. https://doi.org/10.19090/pp.2011.2.127-149