Self-affirmation in the service of self-image maintenance after the positive and negative evaluation of the personality
Keywords:
self-affirmation, self-enhancement, self-verification, selfconcept, feedback
Abstract
This paper examines whether the strategy of self-affirmation – affirming one's value in one personality domain after the other personality domain has been evaluated – can help person confront negative and positive evaluation of important personality characteristic. The key question in this research is: Are people primarily motivated to maintain positive selfimage (so-called self-enhancement motive) or existing self-image, be it positive or negative (so-called self-verification motive)? The aim was to examine whether individuals will use the opportunity to self-affirm after evaluation of one personality characteristic in order to satisfy one of these two motives, and which motive would it be? The female students of high and low self-esteem participated in an experiment in which they were given positive or negative feedback on the intelligence test. It was examined whether participants would change their self-views in three domains: intellectual, physical, and social after the evaluation of their intellectual ability. High self-esteem individuals did not change their self-views in any of the three domains neither after positive nor after negative evaluation. This finding suggests that self-concept of the high self-esteem individuals is stable and well-defined, and that it does not fluctuate as a consequence of periodic inconsistent evaluations. Low self-esteem individuals who allegedly performed very well on the intelligence test self-affirmed negatively afterwards, by underestimating their physical attractiveness. This result confirms that self-verification motive dominates in the cognitive domain, but it also suggests that selfconcept of the low self-esteem persons is more unstable and more sensitive to social evaluation than of the high self-esteem persons.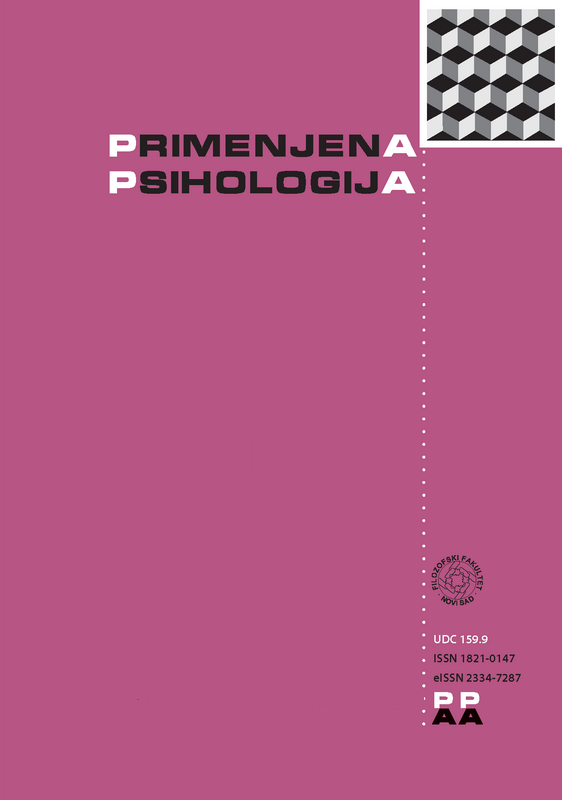 Downloads
How to Cite
Bodroža, B. (2011). Self-affirmation in the service of self-image maintenance after the positive and negative evaluation of the personality. Primenjena Psihologija, 4(2), 93–110. https://doi.org/10.19090/pp.2011.2.93-110